Historia de les Falles...
Les Falles són les festes majors de València i la celebració més popular del País Valencià. La pirotècnia, la música, i el culte a Sant Josep i a la Mare de Déu dels Desemparats caracteritzen la festivitat, que es clou el 19 de març amb la tradicional 'cremà', quan els monuments fallers que s'han construït durant l'any són devorats per les flames.
............
Un origen incert
Hi ha qui en situa els inicis en el costum dels fusters valencians de recollir la fusta sobrant i fer una foguera en homenatge al patró d'aquest antic ofici, Sant Josep. D'altres en canvi pensen que la més popular de les festes valencianes prové de les antigues celebracions paganes que donaven la benvinguda al solstici d'estiu, i que l'Església l'hauria cristianitzat dedicant-la a Sant Josep. I encara hi ha qui creu que les falles van néixer del costum quaresmal de llançar a la foguera un ninot que representava personatges rebutjats per la tradició catòlica, com ara Luter o Judes.
Llibres
- J. Bernat I Baldoví (Sueca) fue el primer escritor con la típica sátira valenciana que creó el primer llibret que ofrece la explicación de la falla, en el 1855
- Joan Fuster (Sueca) escribio sobre las fallas : "Combustible per a Falles"
Vilaweb: http://nosaltres.vilaweb.com/jvilaweb/
GetHTTP?p=810&f=1&pa=p_idcmp&va=663955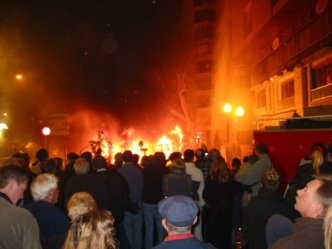 Els Beatles en Falles, Les Beatles aux Fallas, The Beatles at Falla's, Los los Beatles en Fallas !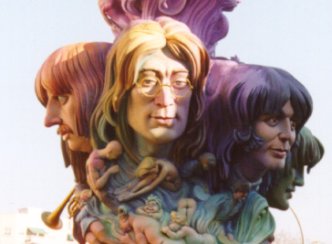 Fallas de Saint Joseph (Valencia, Espagne)...
Valence célèbre sa grande fête du feu et de la poudre, qui a lieu tout au long de l'année.
Son origine remonte aux bûchers païens de l'Antiquité, qui se tenaient dans les premiers jours du printemps. Cette tradition fut unie à la fête des charpentiers, le jour de la Saint Joseph,pour célébrer la fin de la saison hivernale.
Il semblerait que les « Fallas » trouvent leur origine dans les « parot » sorte de structure en bois qui soutenait des lampes à huile qui couronnaient les bûchers. Puis elle a été progressivement décorée jusqu'à devenir un pantin ou « ninot » en cire et chiffons du XVIIIe siècle. Au siècle dernier, la falla s'institutionnalise et devient une parodie de l'actualité, avec le avec le concours de chaque quartier, regroupés en différents comités.
Les fêtes commencent le 12, quand les « fallas » sont montées sur les places. Le 18, chaque commission dépose un bouquet de fleurs au mur de la Basilique de la Vierge des Délaissés, patronne de Valence. Mais le grand jour vient le 19 mars. Cette journée commence par la « despertá » (réveil) ou diane, suivie à midi de la « mascletá » ou spectacle de pétards, pour terminer à la tombée de la nuit par la « cremà », moment où l'on brûle toutes les « fallas ». Un vote préalable permet de sauver un des «ninot » de l'incendie ; il sera ensuite conservé dans le Museo Fallero. Les célébrations sont complétées par des corridas et autres réjouissances.
En savoitr plus : http://www.spain.info/TourSpain/Eventos/Fiestas/K/TW/0/Fallas%20de%20San%20Jose?language=FR
Does the smell of gunpowder excite you?...(The Fallas, Valencia, Spain)
Does the smell of gunpowder excite you? Does the sight of flames make you smile? Do you harbor pyrotechnic urges that are only socially acceptable on the Fourth of July? Well, Las Fallas de Valencia is your kind of event--a loud, smoky, rowdy fiesta where the whole town is literally set ablaze!

Las Fallas is undoubtedly one of the most unique and crazy festivals in Spain (a country known for unique and crazy festivals). What started as a feast day for St. Joseph, the patron saint of carpenters, has evolved into a 5-day, multifaceted celebration of fire...
The origin of Las Fallas is a bit murky, but most credit the fires as an evolution of pagan rituals that celebrated the onset of spring and the planting season. In the sixteenth century, Valencia used streetlights only during the longer nights of winter. The street lamps were hung on wooden structures, called parots, and as the days became longer the now-unneeded parots were ceremoniously burned on St. Joseph's Day...
Besides the burning of the ninots, there is a myriad of other activities during the fiesta. During the day, you can check out the extensive roster of bullfights, parades, paella contests and beauty pageants around the city. Spontaneous fireworks displays occur everywhere during the days leading up to "La Crema", but another highlight is the daily mascletá which occurs in the Plaza Anyuntamiento at exactly 2pm. When the huge pile of firecrackers is ignited, the ground literally shakes for the next ten minutes.
To see more : http://www.aboutvalencia.com/valencia/fallas.asp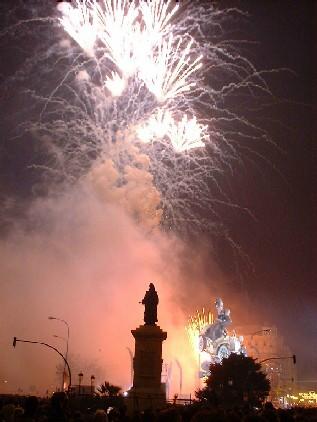 El origen de las Fallas (Valencia, España)
El origen de las Fallas tiene una serie de testimonios festivos que no nos indican una fecha en particular sobre su procedencia real. Ya, en la época del Rey Jaime I, reconquistador del nuevo Reino de Valencia en la primera mitad del siglo XIII, se celebraban actos civiles y militares bajo el brío y calidez de las hogueras. Imagen hogueras Jaime I. Sin embargo, las Fallas se deben sobre todo a la devoción particular que se celebraba por San José, el patrón que tenía el gremio de Carpinteros, más allá del siglo XVI.
Las Fallas como festejo, no estaban organizadas por un ente coordinador, sino por el carácter espontáneo e informal de los vecinos. Los que sí que entraban en unas corporaciones organizadas, era el Gremio de carpinteros, que irá ayudando poco a poco a un pueblo, en las construcciones de catafalcos, pero en un principio, el Gremio iba por un camino, y el pueblo, por otro. Lo que debe quedarnos claro, pues, es que la fiesta pertenecía al vecindario o al pueblo.

Ya, antes incluso de los primeros documentos del siglo XIX, se tenía por tradición arrojar muñecos o monigotes extraños o grotescos al fuego. Estos representaban escenas alusivas al vecindario, costumbres locales y críticas mordaces, envolventes de tracas, luces de colores y música de bandas, algo muy arraigado al valenciano de siempre. Con el tiempo, se irá complicando y mejorando organizativamente la fiesta a nivel social y artístico hasta hoy.

Libros
- J. Bernat I Baldoví (Sueca) fue el primer escritor con la típica sátira valenciana que creó el primer llibret que ofrece la explicación de la falla, en el 1855
- Joan Fuster (Sueca) escribio sobre las fallas : "Combustible per a Falles"

UN ANY, UN AN, ONE YEAR, UN Año...
UNA SETMANA, UNE SEMAINE, ONE WEEK, UNA SEMANA...
UNA NIT, UNE NUIT, ONE NIGHT, UNA NOCHE ! ...
Un any per a fabricar, Un an pour fabriquer, A Year to build , Un Año para fabricar...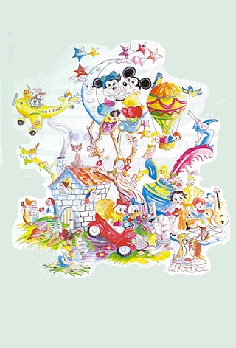 Eixemple de dibuix per Falla Infantil, Exemple de croquis de Falla pour Enfants, Example of picture for children's Falla, Ejemplo de bozeto de Falla infantil...
Uns dies per a insta.lar, Quelques jours pour installer, A few days to install, Unos pocos dias para instalar...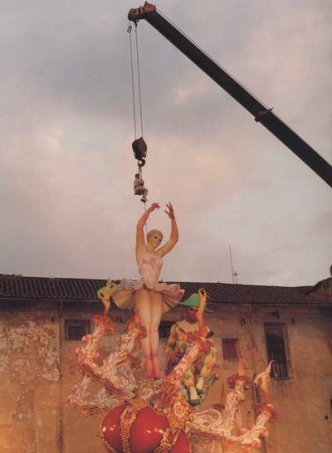 Una nit per a cremar ho tot, Une seule nuit pour tout brûler, Just one night to burn all, Una noche para quemarlo todo !...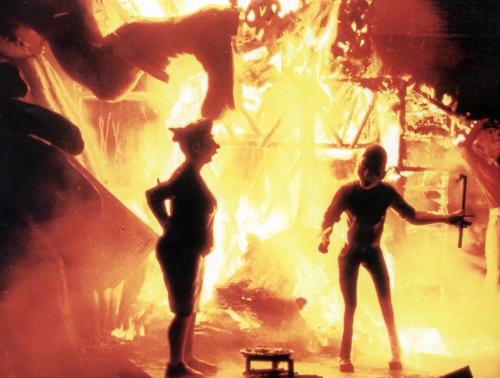 I fins l'any que vé ! Et à l'année prochaine ! And to next year ! Y hasta el año que viene !
VIDEO Cremà San Vicent <!!!> - Castell / Castillo/ Feu Artifice 03/06 (6mn) <!!!!>