OWEN, le Bébé Hippo et MZEE, la Tortue mâle de 100 ans !... OWEN, the Hippo Baby and MZEE the male Turtle, 100 years old ! ... OWEN, el Bébé Hippo y MZEE, la Tortuga varon de 100 años ! ...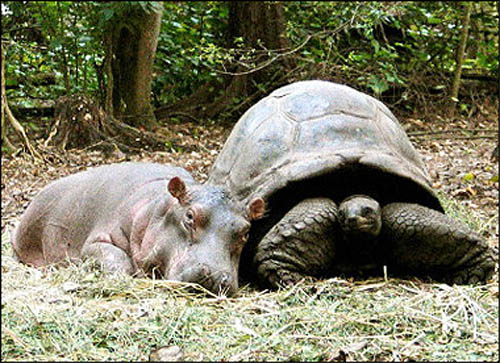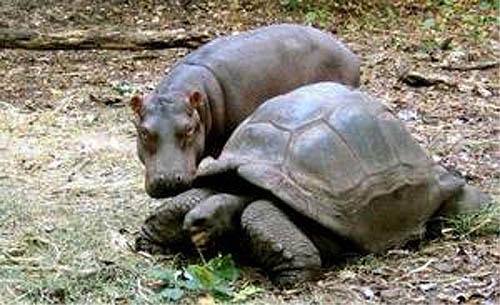 JOYEUX NOEL à OWEN et MZEE !... MERRY CHRISTMAS to OWEN and MZEE !...
FELIZES NAVIDADES a OWEN y MZEE !... BON NADAL a OWEN i MZEE !... Le Village ...
Plus ; Lafarge EcoSytems (Parc Lafarge ) : Régulièrement, des nouvelles d'OWEN et de MZEE ...
More : Lafarge EcoSytems (Lafarge Park) : They often give news about OWEN and MZEE ...
Màs : Lafarge EcoSytems (Parque Lafarge) : A menudo dàn noticias de OWEN y de MZEE ...
:
DECEMBRE 2004
L'hippopotame surnommé Owen et pesant à peu près 300 kg, fût emporté dans la rivière Sabaki dans l'Océan Indien, puis rejeté sur la rive quand les vagues du Tsunami touchèrent les côtes kenyanes le 26 Décembre 2004, avant que les Rangers ne le secourent.
DECEMBRE 2005
Comme d'habitude, Owen et Mzee sont le plus grand centre d'intérêt pour les visiteurs du Parc. Pour Owen et Mzee les jours continuent normalement.
Owen n'a pas eu d'effets secondaires après avoir malencontreusement mangé la mixture pour prendre des empreintes de leurs pieds !!! (pour garder une trace de la vitesse de croissance d'Owen)...Maintenant que nous sommes mieux entrainés, nous avons de très jolies moulures des empreintes de pied d'Owen et de Mzee !!!

DECEMBER 2004
The hippopotamus, nicknamed Owen and weighing about 300 kilograms (650 pounds), was swept down Sabaki River into the Indian Ocean, then forced back to shore whenTsunami waves struck the Kenyan coast on Dec. 26 2004, before wildlife rangers rescued him.
DECEMBER 2005
As usual, Owen and Mzee are the main attraction for most of the Park's visitors.For Owen and Mzee, the days continue as normal.
Owen has shown no adverse effects from eating the mould mixture used for making casts of footprints !!! (to keep track of how fast Owen is growing)... Now that we have had some practice, we have made some good moulds of Owen's footprints and Mzee's footprints !!!
December 14, 2005, 1:48 am
The Christmas holidays are closer and this month we will celebrate the anniversary of the day that Owen was rescued on 28th December, and came to us. Owen and Mzee have given Haller Park a new outlook and brought us many visitors from far and wide. Although Owen and Mzee still spend most of their time together, Owen is becoming more aggressive with Mzee. Owen has taken to biting and shoving Mzee whenever he is hungry and wants to eat but Mzee is not moving. The food is spread round their enclosure as much as possible so that Owen and Mzee are always close to food somewhere. However it has not deterred Owen from biting Mzee. Could it be that he is teething and it is uncomfortable for him?